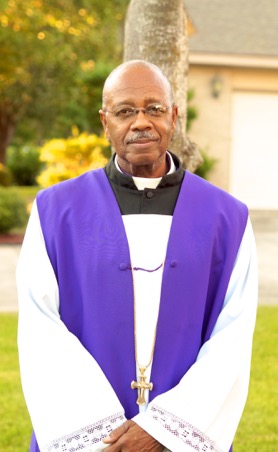 Bishop Priestly was born in Seguin, Texas and was reared in San Antonio, Texas. Upon graduating from high school he joined the United States Air Force and served his country faithfully for over 24 years. His assignments included both state side and tours overseas. Bishop Priestly received the Doctrine of Salvation through the witness of his family in May of 1986 and became a member of The Greater Community Church of Our Lord Jesus Christ (COOLJC), Austin, TX.

In January 1990, Bishop Priestly moved to San Antonio, TX and became a member of Refuge COOLJC. His ministry goes beyond the four walls of the church building as evident of his involvement in one of many public housing developments.

February 1993, he was assigned to Davis-Monthan AFB, Tucson, Arizona. Bishop Priestly joined Bethel Temple Church and served faithfully as the assistant pastor, and Sunday school teacher. While being groomed by the Lord, he served as interim pastor in El Paso, Texas. This assignment entitled him to drive four-hours each way to conduct various church services. His dedication to the Lord is unequaled.

After retiring from the U.S. Air Force in 1996, he returned to Texas and placed his membership at Refuge Church in Seguin, Texas, under the direction of Bishop J. P. Steadman. While at Refuge, he was assigned to pastor Macedonia Church in Corpus Christi, Texas. After sixteen months of pastoring, the Lord ordered him in another direction.

Bishop Priestly is married to the former Marie Thomas of Boston, Massachusetts. With this union Bishop gained two sons, TSgt. Jermaine Thomas and Evangelist Jason Thomas. Sister Priestly gained one son, Royce Jr. Once married, they became a team on the evangelistic field traveling extensively in and out of the state of Texas, including Massachusetts and Arizona. Faithfully working in his ministry, he heard the voice of God to become a full-time pastor.

On October 7, 2001; Rose of Sharon Ministries was birthed and after seven years of worshiping and outgrowing varies locations, the Lord directed Bishop Priestly to move his congregation in May of 2008, to a sanctuary that would accommodate his parishioners. Through this great visionary, hundreds of souls have been drawn to Christ,
and compelled to accept Him as their Lord and Savior.

The Rose of Sharon Ministries is in fellowship with The Pentecostal Fellowship Churches (PFC) where ++Archbishop Marshal Leo'Nard, of Sylacauga, Alabama, is founder and Chief Apostle. Bishop Priestly holds several offices in PFC, such as: Executive Board of Bishops, Board of Directors and on the Policy/Procedure Review Board, and as of June 2012 he was selected as the Presiding Bishop of the PFC Organization.

Bishop Priestly is a graduate of Guadalupe Baptist Theological Seminary with a Doctorates Degree in Divinity.